Join us as we let the insiders guide us to opportunities in the supply-side economy
As central banks hit consumer demand with high rates, insiders are leading us to firms poised to prosper in a transitioning world
Stay ahead of the consensus with INK Research reports.
For example, after we highlighted Leucrotta Exploration on Feb 8, 2022, it was taken over by Vermillion Energy (VET) for a gain of more than 150% in less than 4 months.

The deal also gave shareholders spin-out Coelacanth Energy (CEI) along with warrants exercisable at $0.27. Coelacanth debuted on June 20, 2022 and, by November 3, had traded above $1.00.
The INK Edge outlook process has a track record of outperformance
As nearly all benchmarks fell globally in 2022, the INK Canadian Insider Index rose 5.5%
(7.4% including dividends)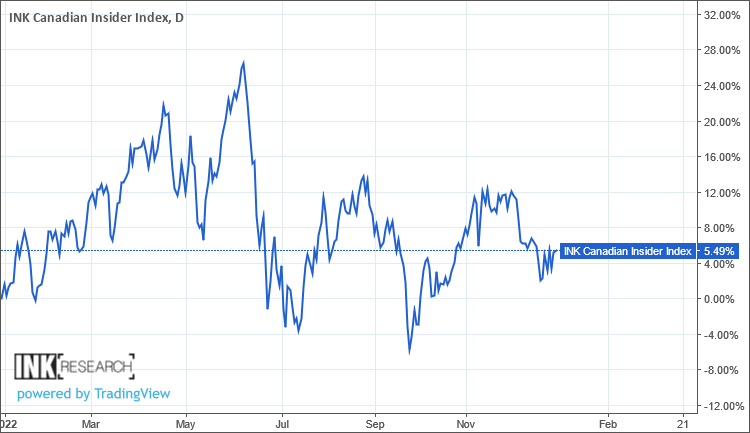 The INK Canadian Insider Index applies a rules-based process that uses INK Edge outlook rankings. For history and characteristics visit the INK Index website.
Top 3 INK Canadian Insider (CIN) Index leaders and laggards in 2022

Top 3 Leaders in 2022

| Stock | Return |
| --- | --- |
| Ensign Energy (ESI) | +103% |
| Crew Energy (CR) | +96.9% |
| Enerplus (ERF) | +76.2% |

Bottom 3 Laggards in 2022

| Stock | Return |
| --- | --- |
| CI Financial (CIX) | -48.9% |
| Interfor (IFP) | -48.2% |
| AutoCanada (ACQ) | -45.4% |
Other key benefits of an INK membership
Identify insider activities quickly
Searching through the SEC & SEDI database can be a time-consuming and costly task. INK strives to save you time and money. Using our patent-pending filter bar technology, you can find:
Stocks and sectors with the most insider buying and selling over different periods
Buying and selling by individual insider
Stocks with share buybacks

Stocks with buying and selling by 10% holders
Many other situations by specific transaction or holding type




Get intraday insider alerts emailed to you

Never miss an insight!

Add stocks to your portfolios and get notified within the hour when insiders file a stock trade.

The benefits don't stop here

See detailed descriptions of more key features including an overview of the INK Edge outlook process.

Join us as an INK Research member

INK Research provides cutting-edge tools that use insider sentiment and activity to identify growth and value opportunities in volatile markets.

Get access to all our INK Research tools by becoming a member. Membership fees can be paid monthly or annually, by credit card, cheque (annual only) or crypto (BTC, LTC and SOL). If you would like to evaluate the service for three days before committing for free, contact us via @inkresearch on Twitter or leave a message for us in our billings voicemail box at 604-669-4465 with some contact details.

Membership subscription rates:

Payment Method
Price*
Annually by credit card or cheque
$3,000 + tax
Monthly by credit card
$299 + tax
Annually by cryptocurrency
(bitcoin, litecoin, or solana)
$2,000 + tax To arrange, contact us
*

Membership is currently closed to pro members. When open, a surcharge may be applicable for pros.