In the March INK Top 20 Gold report, we tackle a big question facing all investors that we believe will help determine the shape of markets for months if not years to come. The issue is whether policymakers will take steps to halt falling inflation expectations. As the media goes about framing the issue in terms of stimulus for the economy, we believe investors will need to assess government action in terms of its potential impact on inflation expectations. Because we are convinced the question about the impact on inflation will be critical to assess in the days ahead, we are publishing our comments from the gold report here to make sure that all our Ultra subscribers get a chance to see our thoughts.

As seen in the 10-year TIPS chart above, real yields (nominal yield - expected inflation) on 10-year Treasury bonds bottomed in early March, around the same time as gold peaked. Nominal, also known as headline, yields on government bonds have dropped quickly over the past month. That was gold positive until inflation expectations plunged. A month ago, breakeven inflation, a proxy for expected inflation, was about 1.7%. By Monday, March 16th, expected 10-year inflation had dropped to about 0.7%!
As Ray Dalio explains in a recent post, The Implications of Hitting the Hard 0% Interest Rate Floor, weak commodity prices are a key source of falling inflation. This could lead to disinflation or deflation.
So what is the way forward? Essentially, we see it as an either-or outcome. If policymakers try to muddle through reaching for the 2008 playbook, inflation expectations are likely to keep falling and low prices will prevail. We'll call that the D-economy for disinflation or deflation, take your pick. The other alternative is that elected officials, not central banks, adopt a whatever-it-takes approach and spend big. So big that the bond market could end its multi-decade bull market. We'll call that the G-economy for government-led. For those looking for a "free market" outcome, that is most likely to occur under the D-economy where governments don't really do very much in the grand scheme of things.
The path chosen by policymakers will have implications for asset markets. The D-economy will continue to favour government bonds while the G-economy may actually favour stocks as hopes of nominal inflation return, giving firms some pricing power.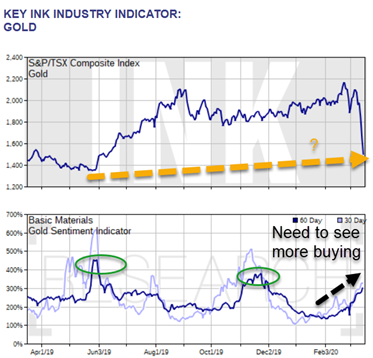 The path also matters for gold stocks. The D-economy will help high-cost producers lower their costs as input costs fall, at least relatively. While gold may not rocket higher, it would do okay as credit concerns in the economy mount as firms get downgraded or go bust. It should also help junior exploration companies with high quality, close-to-production assets. The G-economy should favour lower-cost producers who will be able to deal with rising input costs. It is hard to say which type of junior would do best under this scenario. Our best guess is those with large scale assets with reasonable capital investment requirements will be the most valuable.
At this point, we do not know what path world policymakers will take. That may help explain why insider buying among gold stocks has yet to take off. Insiders may also be waiting to see what is next. Our INK Gold Indicator which measures the ratio of stocks with key insider buying versus those with key selling is below the peaks seen last spring and fall (see green circles in chart). Given that gold share prices are lower now than they were in the fall, ideally, we want to see a peak in the indicator happen at a higher level than was the case in the fall. We are watching for a peak in the indicator because it would represent peak insider buying which often takes place near key support levels for stocks.
While insider activity levels are at bullish levels with respect to the outlook over the next year to 18 months, in the short-term we will not have confirmation that a bottom is in for share prices until the indicator peaks. We will be using the waiting period to assess which stocks may have the best opportunities depending on whether we are headed to a D or G economy. As always, we will let the insiders guide us.